Sensory Happy Hair Brush - Yellow
Buy now pay later with
Our sensory brush has slightly softer nylon pins than the Original Happy Hair Brush™. We've made them this way as we've found people with ADHD, Sensory, Autism, Non-Verbal kids and adults find the sensory brush less scratchy. If you have thick hair, this brush wont cut the mustard. Great for sonsory people and also great for thin hair, older people and sensitive people with thin hair. The brush still incorporates a mix of 5 different hairbrushes and combs styles into one. It has a curved, solid (non-flexible) head so that it can deal with the toughest of hair while protecting the most sensitive of heads. We know your sensory loved ones will love it.
This brush actually works! We guarantee it. 
Bundle & SAVE!
Buy any original paddle in any colour, vegan, or sensory - doesn't matter

Buy 2
Save $9.90

Buy 3
Save $14.85

Buy 4
Save $19.80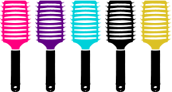 Buy 5
Save $29.90
Description

The Sensory brush is the softest brush in our paddle brush range. It features softer nylon pins and thicker as well as rounder micro tips on the end making it perfect for kids and people that are:

Highly Sensory, have ADHD or special needs who find traditional hair brushes hurt or over stimulate them. 
Under 4 years old and may not have had their first hair cut yet
Very fine hair and a sensitive head

The Sensory Brush is suitable for thin, fine hair and very sensitive heads. It won't work on thick hair.  For thick hair we recommend our Original Happy Hair or Vegan Happy Hair Brush. 

We currently have the Sensory Brush in two calming colours (teal and also yellow) for both girls and boys. Some parents call them Elsa Blue or Smurf Blue or Sunshine...Whatever it takes to have your child pick it up and claim it as theirs! 

The Sensory Brush has helped thousands of parents brush their kids' hair, check out the reviews to see how it's transformed parents' life everywhere. 

Please note: As this brush is softer, you will find that a few of the black bristles will come out when used first. That's normal. We recommend when you get the brush to rub the bristles in between your fingers to remove the loose bristles. Do it over a bin or sink or outside the house. After that you are good to go. Happy Brushing! 


You will only find our brushes online at Happy Hair and with reputable salons and stockists in Australia and around the world.
Care & Maintenance

Please clean your brush weekly as hair builds up in it. If you use a lot of dry shampoo and styling product, you will need to wash the brush weekly for fortnightly. The reason for this is that the shorter bristles will collect all of that residue product, plus dirt, plus dead scalp cells and will block up the shorter bristles to be less effective. Washing the brush is easy. Soak the head of the brush, not the handle in warm water with some dish detergent or shampoo and lightly rub the shorter bristles with your fingers to dislodge the build up and three the bristles. Then rinse and let dry.
Free Shipping* & Easy Returns

30 day money back guarantee

Free standard shipping on purchases over $99.

Free EXPRESS Shipping for orders over $120.
5 Step Brush Care Guide
STEP 1: Remove loose hairs by hand and with the brush cleaner.

STEP 2: Wash the brush head in warm water with shampoo… don't submerge handle. Rub the bristles with your fingers to remove the lint and dirt.

STEP 3: Let the brush dry naturally.

STEP 4: Use for brushing only! Don't use with hair dryer or extreme heat!

STEP 5: Clean as needed (a monthly review is good). Every brush and every head is different.